Menu
Tempt your taste buds with a sumptuous starter. Treat yourself to one of our main courses. Then top off your meal in style, with one of our dessert chef's exquisite creations.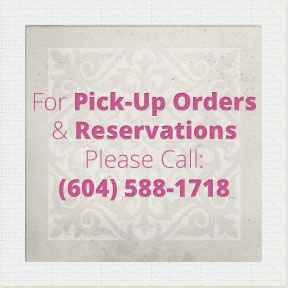 Starters
Malaysian Starters & Soups have been influenced over the generations by the spice trade and the influx of migrants from China and India, and yet there are distinctive cuisines found all over Malaysia.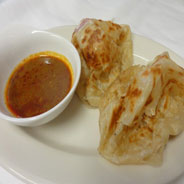 Roti Canai $10
Crispy pancakes with curry sauce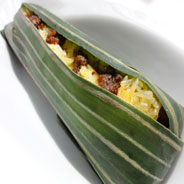 Pulut Panggang $6.00
Sweet glutinous rice wrapped with spicy sundried shrimp & shredded coconut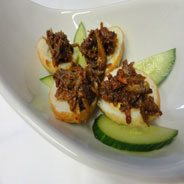 Sambal Eggs $14
Deep fried eggs topped with chili anchovies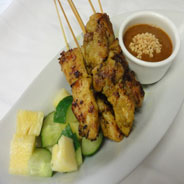 Chicken Satay $18.00
Grilled chicken on skewers served with cucumbers, pineapples & peanut sauce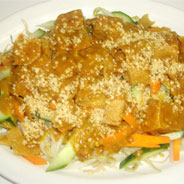 Gado Gado $17
Crispy tofu & blanched vegetables; drizzled with peanut sauce & ground nuts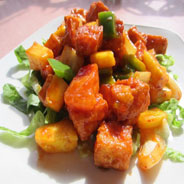 Spicy Tofu $17
Crispy tofu with bell peppers, onions, pineapples & tomatoes wok tossed in a sweet chili sauce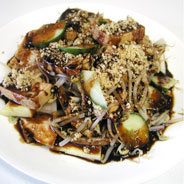 Rojak $18
Mix of fresh seasonal fruits, vegetables & tofu with sundried shrimp sauce; topped with ground nuts
Mains
The main characteristic in traditional Malay cuisine is undoubtedly the generous use of spices. The coconut milk is also important in giving the Malay dishes their rich, creamy character. The other foundation is belacan (shrimp paste), which is used as a base for sambal, a rich sauce or condiment made from belacan, chili peppers, onions and garlic. Malay cooking also makes plentiful use of lemongrass and galangal.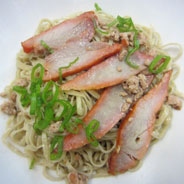 Lo Mee $13
Egg noodles with homemade sauce, minced pork & BBQ Pork. With wonton & vegetables +$3.00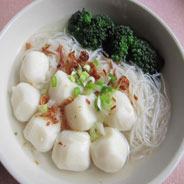 Fish Ball Soup $13
Hand rolled fish balls with vermicelli or glass noodles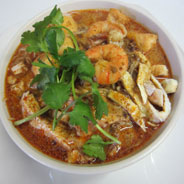 Sarawak Curry Laksa $18
Vermicelli in a herby spicy broth with bean sprouts, eggs, tofu, chicken & shrimp.
Back on The Menu!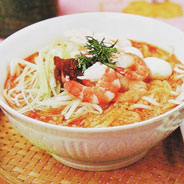 Curry Mee $18
Egg noodles in a creamy coconut curry broth with bean sprouts, eggs, tofu, chicken & shrimp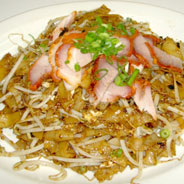 Char Kway Teow $16.00
Rice noodles with bean sprouts & BBQ pork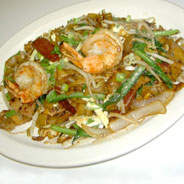 Penang Char Kway Teow $18.00
Rice noodles with bean sprouts, sliced Chinese sauages & prawns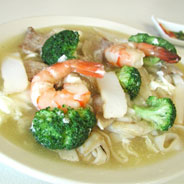 Ipoh Char Ho Fun $19
Rice noodles in sauce with seafood, meat & vegetables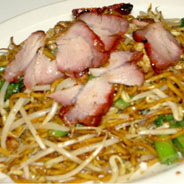 Char Mee $17.00
Egg noodles with bean sprouts, chicken or BBQ pork. Shrimp $11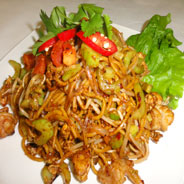 Mee Goreng $17.00
Egg noodles with bean sprouts, celery, shrimp & tofu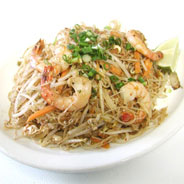 Nonya Mee Hoon Goreng $17.00
Vermicelli stir fried with sambal sauce, bean sprouts, sundried shrimps & prawns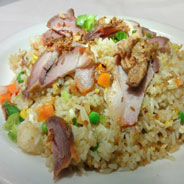 Nasi Goreng $16.00
Fried rice with vegetables. Chicken or BBQ.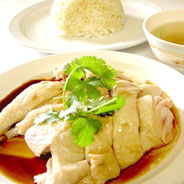 Hainan Chicken $17.00
Steamed boneless chicken with ginger rice, homemade chili sauce & soup. (soup is dine in only)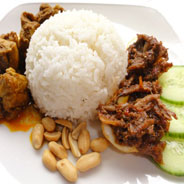 Nasi Lemak $18.00
Coconut rice with curry chicken, fried eggs, chili anchovies, cucumber & salted peanuts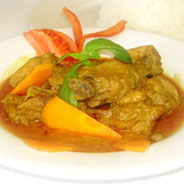 Curry Chicken $18
With coconut rice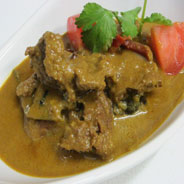 Beef Rendang $19.00
Slow cooked slices of beef simmered in aromatic herd, spices & coconut milk; coconut rice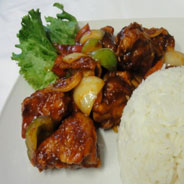 Sambal Chicken $18
Wok tossed with bell peppers, onions & tomatoes; coconut rice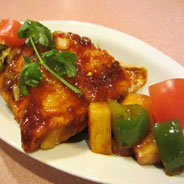 Sambal Fish $18
Lightly battered cod topped with bell peppers, onions & tomatoes; coconut rice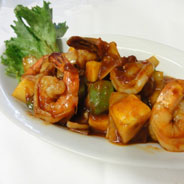 Pineapple Prawns $20
Seared tiger prawns cooked with bell peppers, onions, tomatoes, pineapples & chili sauce; coconut rice
Deserts
Desserts in Malaysia tend to make use of generous amounts of coconut milk. A huge variety of tropical fruits are commonly served as desserts in Malaysia.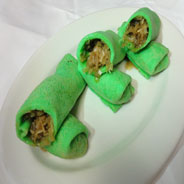 Kuih Dadar $12
Pandan crepes rolled with shredded coconut & palm sugar (3 rolls)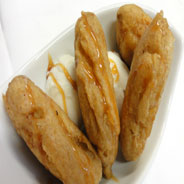 F.B.I. $10.50
Simply the best in town! Crispy, golden bananas & vanilla ice cream
All prices are subject to change